I read this really fascinating blog post by Darren Carroll.  He photographed Deandre Hopkins for the cover of Sports Illustrated in the middle of the pandemic. With no assistance. At all. As a photo teacher, it makes my little heart flutter.
THE PHONE RANG LATE ON A SUNDAY AFTERNOON. MY FRIEND MARGUERITE SCHROPP-LUCARELLI, THE DIRECTOR OF PHOTOGRAPHY AT SPORTS ILLUSTRATED, WAS CALLING.
ODD, I THOUGHT.
First of all, it. had been quite a while since we'd worked together on something. Second, this was on April 5. All sports in the country had been shut down. Texas was operating under stay-at-home guidelines. It's not like there was anything to go shoot. So you can imagine my surprise when she asked me if I'd be interested in photographing DeAndre Hopkins, late of the Houston Texans and now a member of the Arizona Cardinals, in two days.
Of course since we're in the midst of a global pandemic, it was crucial that we take every precaution and observe social distancing. She had discussed the shoot with Hopkin's representatives, and he was game provided the photos were shot from a safe distance, that I wore a mask and gloves, and that, most importantly, I was the only one on set. No assistants, no hair & makeup. I would need to fly solo on this one.
The read is fascinating, and full of great tips. Check out the full post at: https://www.blog-darrencarrollphotography.com/home/2020/5/6/deandre-hopkins-for-sports-illustrated
He also have some of his tips to Photoshelter in a quick video interview. You can click on that link below to jump to that page and hear about it.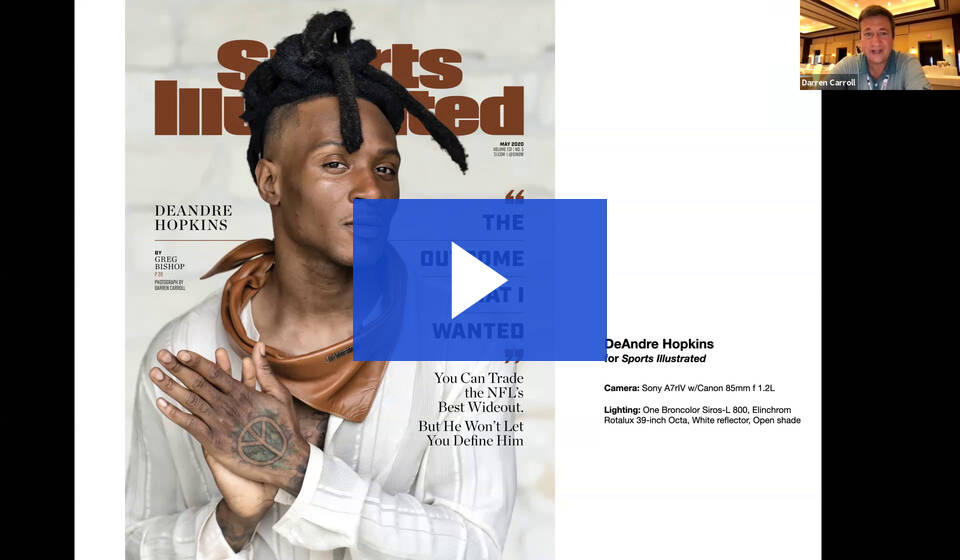 6 Lighting Tips to Elevate Your Portrait Photography – PhotoShelter Blog